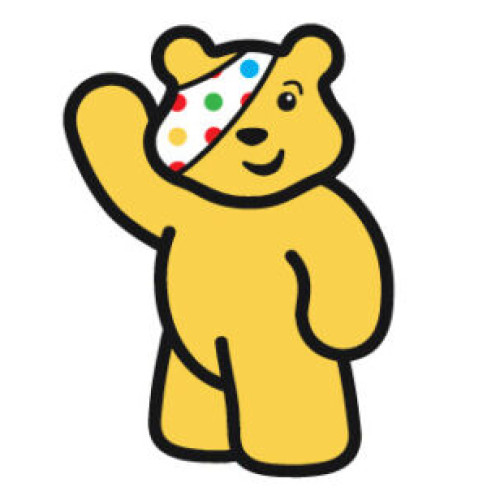 Posted 18th November 2022
So much to tell you...
It's 5.30am on Friday morning and I am sat at my desk trying very hard to remember everything I want to share with you all this week. There is a lot so please bear with me.
I want to begin by thanking our Year 11 and 13 students and their families for the manner in which they have approached the Autumn series of mock exams. They have been magnificent in their approach to the things that matter. They have been at school, on time, and ready to do their best. Most, though not all, have had the right equipment with them for each exam and all have respected the rules of the exam venues. They demonstrated over the past couple of weeks that success matters to them though many still have to remember that a desire to succeed must be matched by a willingness to work hard in school, in every lesson; by a desire to work beyond lessons through home learning and revision. Those are the things that will allow our students to be the best version of themselves possible and to achieve the results that will allow them to do amazing things with their lives. I guess the biggest thing for me is the learning that will follow over the coming weeks as exam papers are handed back to students, dissected forensically to maximise learning and understanding of how and where to be better and the process of building confidence in our students really begins to take shape. The November mock exams provide incredible learning opportunities but they also provide a reality check for many that being in school every day, contributing to lessons and hard work beyond the classroom is the thing that will allow them to achieve their dreams and ambitions at GCSE and A Level.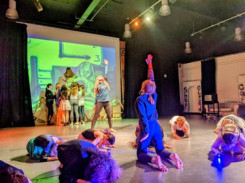 Continuing the theme of exams, I had the very great pleasure of seeing our Year 11 performing arts students deliver the most amazing performances as part of their exam on Wednesday. The students were "buzzing" (their words) after their performances. I know they have worked really hard at applying lots of different performance skills to their pieces but also on their confidence in delivering the most spectacular acting and dancing pieces I have seen for years. It was a real privilege to be there and to get to share in their success and happiness.
I'm very proud of them and can't wait to see what they come up with as a performance piece for component 3 later this year.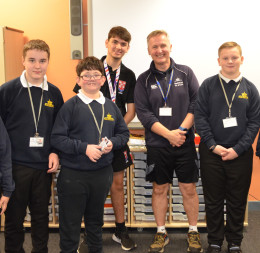 As a follow-up to my last Blog, we welcomed Rugby League Physical Disability World Cup winner, Harvey Redmonds, into school on Monday. He arrived in his England kit and wearing his medal around his neck. After I managed to control my excitement at holding the medal, it was a privilege to talk to him about his life, interests and work since leaving Beckfoot. He was so interesting to talk to and such a humble young man. He spoke to our disability sports teams, our Year 11 students in assembly and managed to control the vast numbers of staff and students who wanted to see and speak to him. As I stepped away from him I couldn't help but be struck by how he shines and stands out in a crowd. He is a wonderful example of what we are trying to develop for and with our students at Beckfoot and it was an honour to have him with us once again. Link to Mr Barnes' interview with Harvey.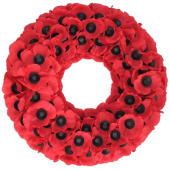 This week began on Sunday actually and the opportunity for me to represent Beckfoot School as part of the Bingley Remembrance Sunday celebrations. It is my first opportunity as headteacher to attend this event and I am so very glad I did. The first thing I noticed was the sheer numbers of people that were there. It had the most incredible community feel as it was lively to be a part of it. I also noticed the incredible numbers of our students that are part of that community through their involvement in local clubs and groups. Everywhere I looked I saw a friendly face and it gave me another insight into why our students are so special. All last week we did our best to remember those who have given their lives over many years to protect our freedom and allow us to live as we do.
Our own celebration in school last Friday was so special too. Our students gathered in the atrium and all around our balconies to listen to the Last Post, to hear the words of The Fallen poem and to reflect, in silence. Over 1800 staff and students did so with such poise and respect. That is Beckfoot School at its finest and that will never change.
The week continued with our student's involvement with the Bradford Citizens group and twenty-our other schools across the city. Our group is comprised of fourteen students across Years 8 to 13 all of whom have had listening training from Bradford Citizens, a civic action group which aims to empower young people to harness the power of voices to make positive change in the local area. This training is the same as all the headteachers have received across the district and is designed to help them hear the voices of young people and represent them to adults in positions of power. They have listened to over 100 of our students and gathered information about the issues that concern our students most about their city. 
On Wednesday they took part in the Bradford Citizens' Listening summit, which included students from the other Bradford schools putting the views of their student body forward. They led a workshop, where they listened to student representatives from three other schools and decided on what views to put forward as part of the on the three biggest issues which Bradford's young people feel affect them the most. Those issues were Racism, Mental Health, and the Cost of Living crises. 
Over the next year, they will campaign for changes in these areas, and will be working with adults in our city who have the power to do something about these problems in order to improve life for young people in Bradford. Last year's cohort worked with Trust CEOs, the Mayor Of West Yorkshire, the Deputy Mayor for Policing and Crime, and the CEO of Morrisons, among others. This is not only very exciting, but vitally important stuff.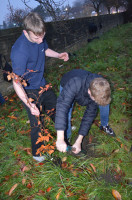 On Wednesday we had yet another first for our school. Last year's GCSE (Year 11) class of 2022 have wanted to leave their mark on Beckfoot and decided to raise money to plant some trees in memory of their time at school. This week Mrs. Powell, who was their Head of Year, alongsi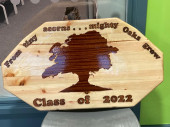 de 15 students planted 26 trees just behind the ATP. They also installed a wooden plaque that the students made by hand to commemorate their time at Beckfoot. It was so special.
There is one more tree to be planted. The most special and largest of all the trees. It is the one to remember Raees who passed away almost three years ago now. He will never be forgotten because once a Beckfooter, always a Beckfooter, and we miss him.
Today is a busy one for lots of reasons but mainly because it's Children in Need day combined with our students drive to raise money for the Pakistan Flood victims. We have a non-uniform day which will also see lots wearing odd socks in support of anti-bullying and we have lots of food to sell to remember those who have lost everything including loved ones in those floods. Lauren, Ruby and Duah in Year 13 are leading the way along with our DT staff and it promises to be a great day where the selflessness of our students shines through once again.
The last piece of student related news I have to tell you is all about our student leaders, specifically our elected Beckfoot Student Leadership group, BSL. Over the couple of years, they have been in office, they have achieved the most incredible things. They have helped shape our Teaching and Learning policy, our PLS and rewards strategy, our food menus, our enrichment provision and secured a third re-designation of our World Class status. That is just to mention a few of their achievements. Post pandemic, we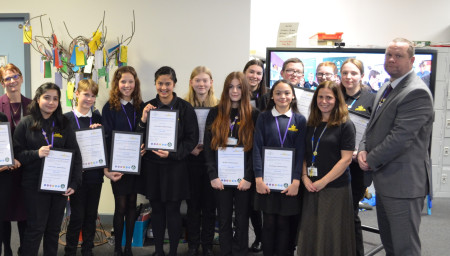 needed a courageous and determined group of young people to pick student leadership up by the scruff of the neck and drive it forward to ensure our young people have a voice and a genuine part to play in the direction of travel of their school. I could not have wished for a more self-determined group of pleaders and yesterday we came together to acknowledge their work but also to share a very special moment with them.
Each of them was presented with a certificate to recognise their work as part of the World Class group of schools nationally but mainly for the bid the wrote to host the next World Class symposium at Beckfoot. Amy led that bid and it was incredible. So much so that the World Class organisation wanted to recognise them as being unique and special and honoured them with an award that demonstrated their quality and the quality of their work and bid. Only thirteen such certificates have been awarded this year across the country and all thirteen to our Beckfoot students. We couldn't be prouder and it was really lovely for our CEO, Shirley Watson, to present the awards to our students yesterday. Well done to each of them and especially to Amy for her leadership.
Finally, I wanted to provide you with some important information about the work of our Local School Committee (LSC). Our LSC is a vital part of the Trust governance structure and is a group made up of parents, trustees and staff mainly. As you know, the LSC sent a survey to families in the summer term to glean their views on how Beckfoot is doing in terms of staff and student welfare, well-being, systems and opportunities. The responses were really interesting and has allowed the group to provide the necessary challenge to myself and our school about our work here day to day. The launch of Class Charts was in direct response to the work of the LSC as a means of supporting and improving communication with families. It is working. They have listened to families in relation to Parents Evenings, the result of which is to maintain our use of online meetings with more focus from staff on what students are doing well and where they need to concentrate their efforts in order to achieve at least what they are capable of, if not more. They have asked us to ensure we keep that provision constantly under review. The LSC has also helped shaped our future parental engagement strategy which will see a change to the Family Forum provision and an increased focus on wellbeing and communication. More information will follow on what that will look like. As part of their remit they have asked me to ensure that you are aware of the mental health information on our website which can be found here. 
The LSC is very important to me as Headteacher and is a group that is constantly evolving and getting stronger. To that end we are currently seeking new members to join the group and have recently asked, via Class Charts, for interested parties to get in touch. It is a wonderful opportunity to get more involved in the life of the school, spend time in the building and provide the support, challenge, support that will help to keep Beckfoot moving forward and doing great things for all.
Take care
Simon
---