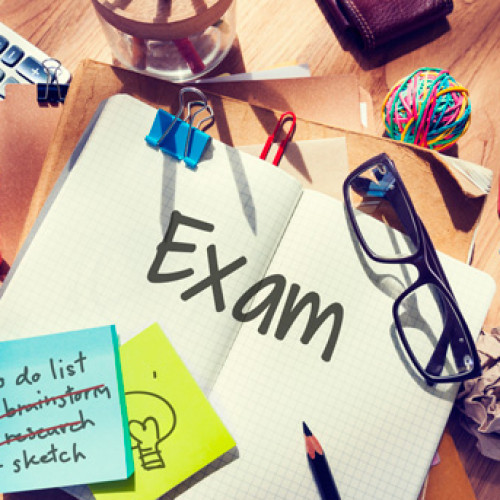 Posted 27th May 2022
It's half term and exams are well underway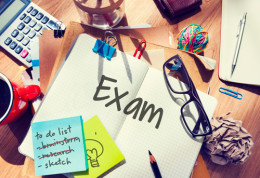 Our GCSE and A Level students are now fully immersed in their exams and it has been a huge relief to most to have started. The anticipation is often difficult but especially so this year given everything these young people have faced in recent years.
We are two weeks into the GCSE exams and A Level began this week. In all cases, it would appear that the exams are fair. As expected, they are providing real challenge for our students but they are approaching each one with grit and determination. They have been well prepared and they will do their best in all cases. I don't think we can ask any more from them in that respect.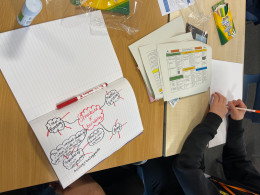 We will break up for half term today and whilst it will be an opportunity to recharge for most, for our exam students it is an opportunity to get a great deal of work done. At this stage, with the end in sight, students should be committing at least four to six hours per day to their revision. I have always believed that you get out what you put in and hard work not only makes a difference but it always pays off. I would urge each of them to give these last few weeks everything they have got and a little more. Rest will come and when it does it will be well earned. I am proud of each of them. They are amazing young people who deserve great things in their lives.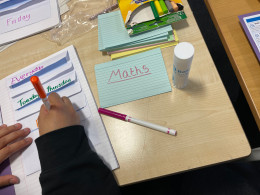 Our Year 10 students have not been immune to the learning that exam season brings either. On Wednesday, they gathered in the hall and were spoken to about their futures and the importance of hard work, resilience and ambition. Our sixth form team and careers staff spoke to them about the opportunities and challenges of the next twelve months. They listened. We then handed them their mock results in the same format that GCSE results will take next summer. This was an opportunity to reflect on their current progress and attainment. It was a chance to think clearly about next steps and whether or not they were on track for success. It was a reality check with the caveat that now was the time to change what they are thinking and change what they are doing to guarantee success in their GCSE exams next year. What I do know is that we will be with them every step of their journey and will be doing everything we can to support them, challenge them and look after them. That is our job and our privilege.
Our sixth form provision is a hugely important part of our school and I love having the older students around the building. They represent everything that we are trying to create at Beckfoot. They are bright, friendly and hardworking, mature, selfless and they are the role models for our younger ones. For many, though, the sixth form experience has been hampered somewhat by the pandemic. The many rites of passage at that age were taken from them and I have worried about them. So much so that I want things to change for the better for all sixth form students.
There is no doubt that there are huge attractions for students to continue their education at Beckfoot, to stay with us for seven years. There is also little doubt that we are an academic provider of level 3 courses. But we are so much more than that. The personal development of young people is a huge part of our provision as is leadership development. Our post 16 specific tutors provide years of experience to support the 16 to 18 journey and are incredibly well supported by our award-winning careers team to ensure our students are getting into their first-choice universities, apprenticeships and careers. So why do I want change? Well, I guess I just want to be better and the pandemic has allowed me to see our sixth form through more critical lenses. I want to create something special, different with our sixth form space. I have worked with the Trust to secure funding to develop our space into something that is much more modern for our students. I will be investing in creating a much more student like experience, with a new and fully furnished common room with doors separating that element of the space from a more work centered space. We will be talking to students in the next few weeks about furnishings for the common room and study space, new ICT equipment and Wi-Fi as well as other things that will make a difference to the post 16 experience of our students going forward. It's exciting and I can't wait!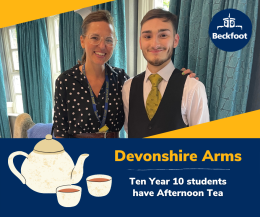 Finally, if you follow us on Twitter you will be able to keep an eye on things day to day. There is a piece on there this week about a trip to the Devonshire Arms. Our students were amazing and really well looked after by the staff there including one of our own who has made a really great career from himself there over the past few years. That, above all else, is what resonated with our students. One of our own, a Beckfooter, doing so well is a joy but also demonstrates what's possible if you are willing to work hard enough.
Finally, we finish today until Monday the 6th of June. Please enjoy the break, get some rest and relax. Unless, of course, you are a Year 11 or Year 13 student!
Take care.
Simon