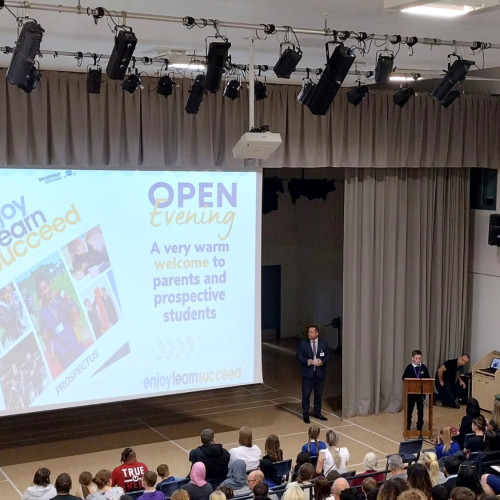 Posted 22nd September 2023
A great couple of weeks with students in the starring roles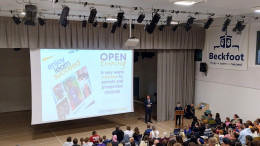 Last week we held our annual Open Evening for prospective students and families. It always comes around so quickly at the start the new school year. Each year I feel that we could not possibly do any better than we have done previously. How wrong I am every time.
This year was different though. We should have known by the crowds of people queuing from an hour before the event. It is an evening where we are excited to show our school but in an even more special way, it is an evening where it is our students who are the most excited and the proud of their school and that, as a cultural indicator, is so wonderful for me.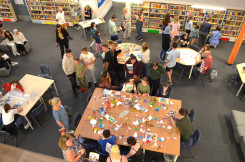 Indeed, we had just over 375! students return to school to help us in a variety of roles including tour guides, faculty support, car parking and information providers. They were amazing.
On a personal note, I was delighted to be able to talk about Beckfoot, a place I love. I was able to share our successes, values and work with over twelve hundred people over three speeches. Many more attended but have heard me before and some just could not get in. Overall, we feel it was our busiest ever with somewhere close to two thousand visitors on the night.
I was then fortunate to be invited to one of our local feeder schools, Saltaire Primary, to talk again to families in a more intimate setting about Beckfoot and be available for questions afterwards. It is always a lovely evening at Saltaire Primary and it was a pleasure to be there to share our story and hopefully, in doing so, provide families with even more information that will help make the best decision for their children.
Last night we held an information evening for Year 11 families to share little insights into the year that lies ahead. We wanted to talk about working together, about the often turbulent nature of an exam year, about what to expect from us and key dates. About 250 people were there, more than we have ever known at such an event. It was a lovely evening full of warmth and care and even a few tears! Thank to Mrs Powell and Mr Wheeler for making it happen. The year group are in good hands.
In sporting news, our extra-curricular timetable is well underway with lots of training sessions and games coming thick and fast. The PE team are superb at keeping me informed as are our students. This week they let me know about Sofia and Alannah's achievements in gymnastics. Both girls competed in their club artistic gymnastics championship for 2023. Sofia was awarded Gold on Bars, Gold on Floor, ranked 3rd overall in zinc level with girls up to age 15 (she is only 12!). Alannah was awarded silver floor, Silver bars, bronze vault and floor, ranked 3rd overall in Copper level. Both girls are hugely committed and train 6 days a week for dance and gymnastics. I was delighted for them both not solely because of their achievements but because they are thoroughly decent young people who manage to find the balance between school and sport in their lives and long may that continue.
We also found out this week that Ella and Alice in Year 10 have been selected for the West Yorkshire County netball squad. To be selected for any form of representative honour is incredible but to be selected for your county is incredibly special. Both girls, once again, are very worthy of this selection. Not only are they talented and very athletic but they too manage to find that balance in their life and we are immensely proud of them.
Given that I have shared news about our students in sport I also want to let you know that our own Ms Sears, Head of Year 7, has once again been selected to attend the World Cheerleading championships in Orlando in April 2024. This is a huge opportunity and honour for her and her club, Elite, in Bradford and we wish her every success in her training and participation in the new year.
Continuing with the good news, this week a number of our Year 11 students were involved in a GCSE Hospitality and Catering exam. They spent three days involved in preparing, planning, cooking and writing. They cooked the most incredible dishes ranging from desserts to main meals including a Beef Wellington and the most incredible chicken and chips I have ever seen. They were so amazing, so engaged and so committed to being the best version of themselves possible. We could not have asked for more from any of them and I am excited as to what they are capable of as we progress through the year. Well done to each of them.
Finally, this week I sent you all a message about Ofsted. As you may or may not know, we are expecting a visit from them very soon. It will be our first visit since May 2014 when we were so thrilled to be recognised as an Outstanding school. We feel that our work in recent years, matched by the strongest outcomes in our school's history, mean that we are hopeful of retaining the honour of being considered to be an Outstanding provider in this area. It is here that I need your support. The views of our staff and students in our recent surveys in the summer term are incredibly positive and now I need to know if you feel similarly. It is important and will form part of the evidence base that Ofsted will look at when making a judgement about our school. We have a special school. Not perfect by any means but a school that has soul and cares deeply about young people. I hope you feel similarly and would be willing to complete the Parent View survey to help us.
Have a great weekend.
Simon Wade, Headteacher
---