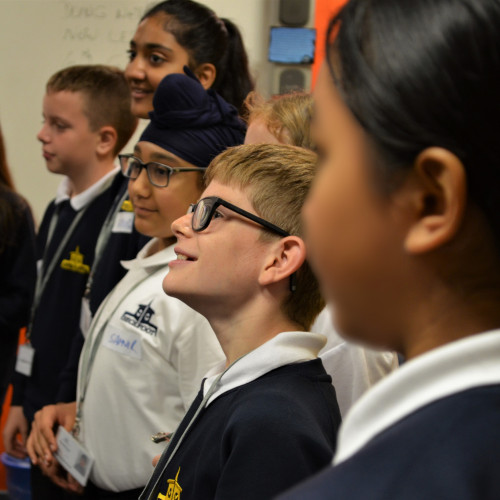 Posted 17th September 2021
A new school year begins!
Welcome back!
A special welcome to our new Year 7 students and those joining our Sixth Form from elsewhere. Both groups have already proved to be an amazing addition to our school.
I have been humbled by the manner in which our entire school community has accepted and embraced our re-opening and testing plans and more so by the manner in which they have approached learning since our return. It is an absolute delight to me that we have made such a strong start but it's also important to remind ourselves that we each have to play our part to maintain that strength and build upon it as we progress through the year.
I have loved having the opportunity to talk to staff and students face to face once again. I have missed their characters, humour and energy. Walking around the school during lessons and break times has been a pleasure and it is so good to be getting back to some form of normality. Our students are navigating the building really well as they move from lesson to lesson. It is so easy to forget that, for so many of them, this is new. They tell me they are loving the opportunity to learn in new areas of the school and enjoying the specialist facilities that we have at Beckfoot. Long may that continue.
I want to thank every parent and carer who has trusted us with our plans to open. We had an attendance figure of 97% last week and that is stunning. We have been making slight tweaks to our plans each day as we learn more and more about the flow of students and how to make things better for them.
I have tried to get in to as many lessons as possible since our return and I have loved what I am seeing. I have been struck by the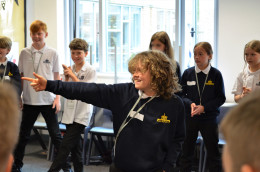 maturity of our young people and their determination to learn well. They have been engaged and happy to contribute fully to lessons which is exactly what we expect of them. Beckfoot has a special 'soul' and I have seen this at every turn.
I had the opportunity to visit our Oracy workshops with Year 7 on Friday. I listened to them stand up in front of their peers and introduce each other. I watched them tell of their dreams and ambitions for the year ahead and beyond and I loved the purity of their messages and confidence they needed to have to simply stand up and speak. I really want them all to become more effective communicators and this type of work will help.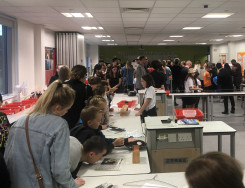 Our Open Evening last night was an overwhelming success. We had our busiest ever evening with huge numbers of prospective students and their families coming to visit. Our building fizzed with excitement because we are proud of our school and we love to show it off. We had over 200 students who attended as volunteers to help throughout the evening. They were so happy to be with us and the feedback already has highlighted the role and impact they had on our guests. Our faculty areas came to life with all sorts of interactive activities and the whole event had a warmth about it that we are proud of.
I want to give a special mention to Kian and Lily in Year 7 who both made speeches last night. They described, in their own words, how they felt about Beckfoot after only being with us for 8 days. They spoke with great confidence and passion about their new school, the opportunities that exist and their hopes for Year 6 students and families on the evening. I could barely tie my shoes at 11 years old and I am so very proud of them both for helping me and representing our school so well.
Our extra-curricular timetable began this week with loads of activities available in Sport, Creative Arts, Debating and so much more. Our staff and students have missed the additionality that these activities provide, and it is so great to see waves of students getting involved in all that is being provided for them. I cannot wait for sporting fixtures and performances to return soon to our fields and hall in the weeks ahead.
We have had lots of special news this week including being awarded with the Music Mark award for the quality of our music provision across school and our contributions to music more widely across the city. I am thrilled for the team and our students because this recognises what they do week in week out and it so deserved for Matt, Mike and the team.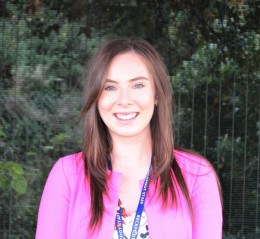 We had news that Ms. Mitchell in English, has been accepted onto the SSAT Leadership Legacy course for 2021-22. This is an incredible opportunity for her to develop and shine as a participant and practitioner and she follows in the footsteps of Ms. Towler who completed the course last year.
And finally, I want to share news about two students who are doing great things in sport at the moment. Sian, in Year 12, has had an incredible summer in badminton winning national ranking titles and beating England players in the process. We are hopeful that she too will soon get to represent her country if she keeps progressing as she has been doing. Ben in Year 11, travels to London today to prepare to play for Blackburn Rovers against Chelsea tomorrow. It is another wonderful opportunity for him, and we all wish him well.
Thank you again for your support and the strong start to the year that support has facilitated.
Take care.
Simon