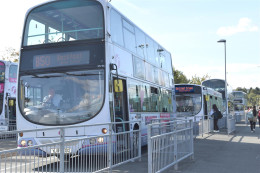 Travel
---
Student behaviour
Students must be positive ambassadors for Beckfoot when travelling to and from school.
They are expected to behave in a sensible, mature manner on all forms of transport. This means all school services and also the buses and trains used by the general public.
We aim to ensure that everyone travelling on school transport is safe and gets to and from school on time.
---
School buses 
Generally, buses are reasonably on time, but because of congestion or accidents on the A650, they are sometimes late. Both the school and the bus companies are keen to get students home safely and on time, therefore a replacement service is normally provided as soon as possible. Unfortunately, students may have to wait for its arrival. Students will be required to apply for a 'Priority Photocard' to use the school bus service for the academic year to ensure that the WYCA plan correct routes for our students.
All students travelling by a school service bus MUST have a Priority Photocard (a school bus travel card). Public bus services do not. There is no cost associated with this. To apply, please click this link: https://metro.flexiroute.net/app_form_new_secondary.html
The school buses from September 2023 are:
If you are unsure which service to choose, please click this link:
https://www.wymetro.com/your-school/a-z-school-finder/b/beckfoot-school/ for the latest changes to school bus services.
---
Other bus services
Public service buses on Route 615/616, 662 & 60 also pass near to Beckfoot School. There is no direct public bus service for students travelling from Eldwick & Gilstead, so use services 615/616 and then change to 662. We advise students to use the B50 school Bus Service for this route.
Other public buses are Bingley (662 & 60), Keighley (662 & 60), Shipley (622 & 60), Saltaire (662 & 60), Greengates (60) or Bradford (662). Please contact Metroline (0113 245 7676) for further details or visit www.wymetro.com 

---
Payment arrangements
Students can pay a cash fare on boarding the bus, which varies by distance, but is generally between 60p and £1.80 per single journey for students with an Under 16 or 16-18 Photocard. Please note that students without one of these Photocards will be required to pay the full adult fare. FirstDay and FirstWeek tickets are not valid. MCard and Metrocard passes are valid or they can purchase a weekly or monthly Under 19 travel ticket at any Payzone or at a Bus Station Travel Centre.
---
Home to school travel 
If you would like to apply for support with home-to-school travel arrangements visit https://bso.bradford.gov.uk/content/schooltravel. If you qualify for support with home-to-school travel arrangements, you will be issued with one of the following: 
A zero-fare School Pass to use on public service buses and/or on any of the school bus services (except service B48); or 
A zero-fare Boarding Pass to use on service B48, if you live on the route of this service.
Please note the information above is correct at the time of publication and may be subject to change.
Please check https://www.wymetro.com/schools/  for up-to-date school transport information.
---
By car 
The map below indicates where you are permitted to drop off or collect your child/children. Parents must drive onto the purpose built drop-off and turning circle which can be accessed via the northern, Bradford Road Entrance.
Parents are asked, for the safety of students, not to use the front entrance driveway or bus bay for parking or turning. The school, police and fire brigade are anxious to avoid parents turning into Wagon Lane at all as parking restrictions are in place and the police regularly patrol and issue tickets for violations.
Our collective concern is that there is nowhere on Wagon Lane, or at the front entrance, where it is safe to turn around. Therefore, please do not use these areas to drop off or collect your child.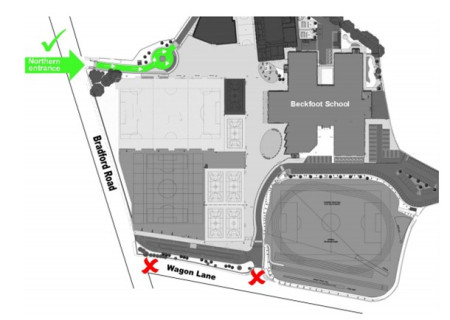 ---
On foot 
The A650 is a very busy road and great care must be taken if you stop to drop off or collect children. For safety reasons, students are advised to use public footpaths and designated walkways around the school site. To cross the busy A650 Bradford Road, students must use the puffin crossing.
---
By bicycle 
There is a cycle store located by the turning circle and another by reception. Please ensure your child wears a cycle helmet, has a bike lock, and adheres to the Highway Code.
---