Confident Communicators
Oracy at Beckfoot School
---

Oracy Takeover
This week we had the first Oracy Takeover event in Year 9 Religious Education. This meant that normal lessons were replaced with two hours of Oracy lessons! Oracy is all about speaking and listening, which is a massive part of the RE curriculum. This half term, students have learnt about different Ethical Enquiries, including abortion, euthanasia and environmental issues, and this week's Oracy event gave them the chance to explore these themes in more depth through discussion. The event spanned over two lessons, the first on the theme of Destruction and second on The New World. Students used their excellent knowledge of ethics to discuss, debate and reach decisions in the face of challenging dilemmas.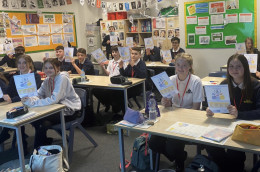 They explored issues surrounding medical ethics, political philosophy, welfare and tax to create meaningful discussions. Students used their fundamental Oracy skills of discussion, reasoning, debate, and of course, listening. Everyone had the chance to be heard and express their own opinions whilst actively listening to their peers. It was a great week of Oracy development and RE but also a lot of fun! 
Destruction session 1: It's 2040 and the world is sick. The destruction of the world was not stopped, climate change ravaged the world, and the environment met its demise. Now to ensure the survival of humanity, big decisions need to be made. The Big question we shall explore is, Can the world be saved in an ethical way? Or has human destruction gone too far?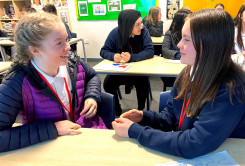 New World session 2: You've made the big decisions, you saved humanity but now we must start fresh. Society needs to rebuild and it's your task to create the New World, but it won't be easy! So, what does the perfect New World look like? 
What our students said: 
'Oracy week gives people the chance to share their own views and ideas. Sometimes people feel that they don't have the opportunity to give their opinion, oracy week lets people who wouldn't otherwise contribute, feel comfortable enough to talk about the topic. It also teaches us the vital skills that we will use for the rest of our lives' Izzy 
'One thing I really enjoyed about Oracy week was that it got everyone talking, it wasn't just one person. The whole class got involved and everyone was very passionate about their arguments. I think it was great that we could all share our views with confidence, and it was overall a lot of fun!' Halima.