12th September 2022
Lois sails from Dublin to Portsmouth
Lois, Y13, had a memorable sailing experience over the summer holiday through the Jubilee Sailing Trust. An expedition saw herself and fellow novice ship mates, guided by knowledgeable volunteers, sail the 65m long Tall Ship named 'Tenacious' from Dublin to Portsmouth - which gave them an enjoyable 9 days at sea.
"I have literally not done anything like this before.. it was amazing!"
- Lois
The Tenacious is a fully accessible ship which allows the Jubilee Sailing Trust to deliver their important mission of giving "people of mixed abilities and circumstances the freedom to explore their ability, potential and place in the world through inclusive adventures at sea". Speaking of the ship, Lois explains that it is equipped with many 'accessible features' such as: braille and notches on the ship rails to allow sight impaired people know exactly how far from the front of the ship they are, assisted climbs into the rigging with safety lines, slings and a pully system to assist wheelchair users, larger compasses and a joystick that can be used to steer rather than the ships wheel if needed.
Lois enjoyed the experience so much, and excelled at sailing, that she is now a volunteer for the trust and has now furthered her sailing adventures with a day sail on the Thames in London and is even planning a 6 month sailing trip in her gap year.
You can read more about Lois' 9 day sail by downloading her fantastic journal here: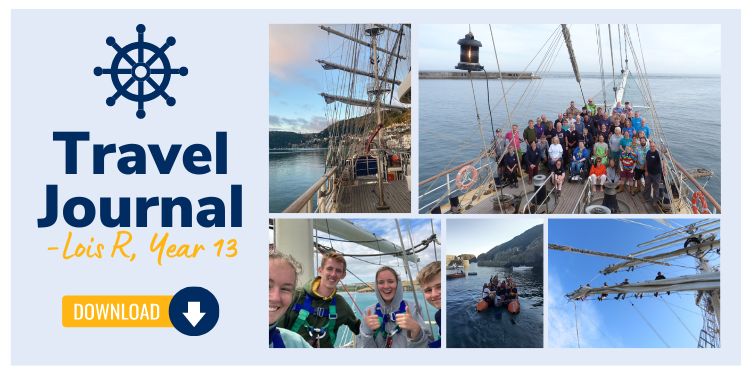 What a remarkable experience to be a part of Lois - well done! We look forward to hearing about any further sailing adventures you embark on.